YMCA group fitness classes span a range of interests, activities and abilities.
We recommend that you wear active gear: shorts, leggings, t-shirts, and/or tank tops are all lightweight and breathable clothing for our Group Fitness Classes. You should have comfortable sneakers to help absorb impact during your participation. Please be sure to bring a water bottle to stay hydrated during class.
Book your Group Fitness classes through MyY App, or call our Welcome Desk staff at (902) 423-9622 X 0
Reserve your spot today!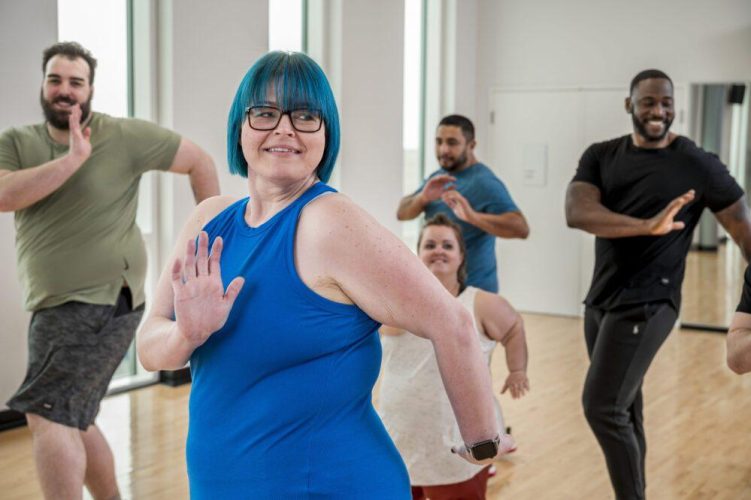 Cardio & Strength
Early Bird Strength
Calling all the early birds out there! This 7 am fitness class is a Halifax YMCA tradition dating back 30 years! Join this group for 2 days of strength training and 2 days of Cardio then stretch and relax on Fridays with Yoga. This early morning fitness class is made for all levels and focuses on full-body workouts.
Gentle Fitness
Be gentle on your body while boosting your level of fitness! Improve your endurance, mobility and stability without the stress on your joints. This total body, low-impact workout combines resistance and balance exercises. Suitable for beginners and anyone requiring a modified program.
Cardio Kick
Build stamina, improve coordination and flexibility, and burn calories as you build lean muscle with this fun and challenging workout. An experienced instructor leads cardio kickboxing class by demonstrating choreographed movements of punches, kicks, and knee strikes set to fast-paced music.
Y Spin
Up your cycling skills! Come prepared for a cardiovascular workout that emphasizes proper form, technique and safety. Challenge your endurance and stamina with hills, climbs, sprints and more on an indoor cycling bike.
30 Minute Circuit
Your answer to a fast, effective lunchtime workout. Circuit training is a form of body conditioning that involves endurance training, resistance training, high-intensity training aerobics, and exercises performed in a circuit, similar to high-intensity interval training. It targets strength-building and muscular endurance.
Belly Dance Basics
Calling all women, come join Nash to learn the basics of Bellydance in a fun, energetic atmosphere!
HIIT
Come try our fast-paced, high energy 30 minute HITT class, if you need a great workout in a hurry!
Upper Body Solution
Focus on upper body and core with this 45 minute class to help you get toned and strong.
Full Body Strength
Boost your level of fitness and gain full body strength! Improve your muscle endurance, mobility and stability without the stress on your joints. This total body strengthening workout combines resistance and power. Suitable for all levels.
Bootcamp
Meet your fitness goals with this multi-level bootcamp. Challenge your strength, endurance, balance, agility, coordination and speed with drills that include multiple options suited to your fitness level.
Aquafit Shallow/Deep Combo
The high resistance of water and available equipment offers an excellent workout while minimizing the impact on joints. All fitness levels are welcome.
Zumba
Listen to Latin music while learning fast-paced dance routines. All levels are welcome! Make sure to arrive 5 minutes before the class begins.
Boxing Basics
Learn the fundamentals of boxing and experience a fighter's workout without having to get in the ring!
ABSolutely
Enjoy a 15 minute core class after you finish the Y Spin class or as a stand alone experience. Please come already warmed up.
Butz & Gutz
This is your lower body solution- target your legs and abs with this fun, energizing class.
Yoga Mind-Body
Check and Download our Group Fitness Program Schedule
Early Bird Yoga
Barb
7:00 – 8:15 am
– Studio 2 –
(Ends June 12)
Yoga
Joanne
9:15 – 10:15 am
– Studio 2-
Restoring Body & Mind for Seniors – Pilates
NaRae Lee
10:00 – 11:00 am
– Studio 3 –
Gentle Fitness
Cathy
10:30 – 11:00 am
– Studio 2 –
Aquafit
Combo class
11:00 – 11:45 am
– Hugh Pool –
(Ends June 5)
Y Spin
Tammy
11:45 – 12:30 am
– Studio 1 –
Yoga
Kasandra
12:15 – 1:00 pm
– Studio 2 –
Chair Fit
Cathy/Rebekah
1:00 – 2:00 pm
– Studio 3 –
Upper Body Solution
Katie
4:30 – 5:15 pm
– Studio 2 –
Full Body Strength
Karen
5:30 – 6:15 pm
– Studio 2 –
Y Spin
Katherine
6:30 – 7:15 pm
– Studio 1 –
HIIT
Katie
6:30 – 7:0 pm
– Studio 2 –
Early Bird Strength
Alison
7:00 – 8:00 am
– Studio 2 –
Lift Yoga
Krista
9:15 – 10:15 am
– Studio 2 –
Y Spin
Marie
12:05 – 12:50 pm
– Studio 1 –
Yoga
Roma
12:15 – 1:00 pm
– Studio 2 –
Full Body Strength
Laura
4:30 – 5:30 pm
– Studio 2 –
Aqua Combo
Julianna
5:30 – 6:15 pm
– Pool –
Cardio Kickbox
5:30 – 6:15 pm
– Studio 3 –
Strong Yoga
Mila
5:30 – 6:25 pm
– Studio 2 –
Bootcamp 
Rebekah
6:30 – 7:15 pm
– Studio 2 –
Hatha-Vinyasa Yoga
Marrilee
7:00 – 8:00 am
– Studio 2 –
Step and Strength
Laura
9:15 – 10:15 am
– Studio 2 –
Slow Flow Yoga
Sarah
10:30 – 11:30 am
– Studio 2 –
Aquafit Combo 
Cathy
11:00 – 11:45 am
– Pool –
Y Spin
Elana
11:45 -12:30 pm
– Studio 1 –
Yoga
Kasandra
12:15 – 1:00 pm
– Studio 2 –
Chair Fit
Cathy/Rebekah
1:00 – 2:00 pm
– Studio 3 –
Y Spin
Tammy
5:15 – 6:00 pm
– Studio 2 –
Zumba
Susan
5:00 – 5:45 pm
– Studio 2 –
Full Body Strength
Marie
6:00 – 6:45 pm
– Studio 2 –
Yin Yoga
Roma
7:00 – 8:00 pm
– Studio 2 –
Strong Yoga
Guylaine
7:00 – 8:00 am
– Studio 2 –
Gentle Yoga
Shaya
10:30 – 11:30 am
– Studio 2 –
Full Body Strength
Laura
12:15 – 1:00 pm
– Studio 2 –
Yoga
Shaya
4:30 – 5:30 pm
– Studio 2 –
Lift Strength
Krista
5:30 – 6:30 pm
– Studio 2 –
Aqua Comb
Cathy
5:15 – 6:00 pm
– Pool –
Y Spin
Katherine
6:30 – 7:15 pm
– Studio 1 –
Yoga
Kasandra
7:00 – 8:00 pm
– Studio 2 –
Y Spin
Alison
6:30 – 7:15 am
– Studio 1 –
Full Body Strength
Laura
9:15 – 10:15 am
– Studio 2 –
Gentle Fitness
Cathy
10:30 – 11:00 am
– Gym –
Y Spin
Elana
11:45 -12:30 pm
– Studio 1 –
Zumba
Susan
12:15 – 1:45 pm
– Studio 2 –
Boxing Basics 
Gentil
9:15 – 10:15 am
– Queenax –
Y Spin
Katherine
10:00 – 10:45 am
– Studio 1 –
Absolutely
Katherine
10:45 – 11:00 am
– Studio 1 –
Zumba
Calvin
10:15 – 11:15 am
– Studio 2 –
Full Body Strength
Katherine
11:30 – 12:15 pm
– Studio 2 –
Aqua Combo
Hugh
5:00 – 6:00 pm
– Pool –
Aquafit Combo
Karen
9:00 – 9:45 am
– Pool –
Intermediate Boxing
Gentil
9:15 – 10:15 am
– Queenax –
Y Spin
Katherine
10:00 – 10:45 am
– Studio 1 –
Absolutely
Katherine
10:45 – 11:00 am
– Studio 1 –
Full Body Strength
Katherine
11:30 – 12:15 pm
– Studio 2 –
Zumba
Alison
4:30 – 5:15 pm
– Studio 2 –
Yoga
Barb
6:30 – 7:30 pm
– Studio 2 –
Remember:
Book your spot on with the My Y App