Friendly game of pick-up, or train to play!
There are lots of ways to get moving at the Y. Play your favourite sports and games, or try something new! Come along or with a group. From kids to adults, we've got something for everyone. 
Book your sports and recreation activity at the touch of a button through the MyY App or call our Welcome Desk at (902) 423-9622 X 0.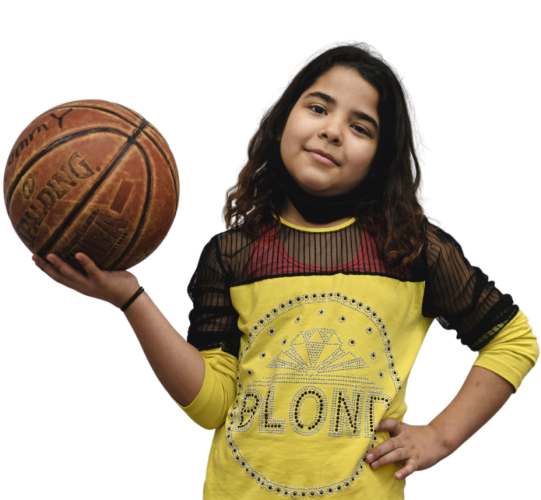 Pickleball
Pickleball is a fun racquet sport for players of all levels. Similar to badminton or tennis, players use solid square racquets to hit a perforated ball over a net. Invented in the 1960s, pickleball has exploded in popularity. Come join us to play one of North America's fastest growing sports! Must be 8+ to participate.
Basketball Hoop Bookings
Exercise the spirit, mind, and body in an unintimidating environment at the YMCA. Fitness Coaching appointments to get you started on one of our YThrive programs are included and encouraged with your membership along with a Free Consultation with a Personal Trainer to discuss your goals and our Personal Training options.
Family Bubble Bookings
Book your family in for some fun and energetic time in our beautiful YMCA gymnasium! There are 4 family bookings per hour and up to 5 family members can join. Your family will be reserving a quadrant of our gymnasium and can utilize any of our sporting equipment except for nets.
Volleyball
Volleyball is a team sport in which two teams of six players are separated by a net. Each team tries to score points by grounding a ball on the other team's court under organized rules. Come as an individual or book in as a team and enjoy an open game of volleyball. Must be 8+ to participate.
Badminton
Book one of our basketball hoops and add 3 of your bubbled friends/family members to practice your shot! All ages are welcome, and nets can be lowered to accommodate children.
YMCA Gym Program Schedule
Check and Download our John W. Lindsay YMCA Gym Program Schedule
Pickleball Bookings
7:00 am – 1:00 pm
Family Gym Time
1:30 – 3:30 pm
Hoop Bookings
3:30 – 6:30 pm
Y Move
Once a month
5:30 – 6:30 pm
Panther Basketball Practice
8:00 – 10:00 pm
Badminton Bookings
7:00 am – 1:00 pm
Half Court Basketball
Drop-In
1:30 – 5:00 pm
Badminton Bookings
5:30 – 7:30 pm
Panther Basketball Practice
8:00 – 10:00 pm
Family Gym Time
6:00 – 9:00 am
Kinder Gym
Registered Program
9:30 – 10:15 am
Pickleball Bookings
11:00 – 1:00 pm
Hoop Bookings
1:30 – 4:30 pm
Pickleball Bookings
5:00 – 6:30 pm
Panther Basketball Practice
8:00 – 10:00 pm
Hoop Bookings
6:00 – 8:30 am
Badminton Bookings
9:00 – 1:30 pm
Full Court Pick Up Basketball
Drop-In
2:00 – 5:00 pm
Soccer Registered Program
5:30 – 7:30 pm
Panther Basketball Practice
8:00 – 10:00 pm
Family Gym Time
6:00 – 10:00 am
Gentle Fitness
10:30 – 11:30 am
Pickleball Bookings
12:00 – 1:30 pm
Hoop Bookings
2:00 – 4:30 pm
Basketball Drop-In Program
8:30 – 10:00 pm
Family Gym Time
8:00 – 9:00 am
Tumblebugs
9:00 – 10:00 am
Badminton Bookings
10:30 – 1:00 pm
Family Gym Time
1:30 – 5:00 pm
Hoop Bookings
5:30 – 8:00 pm
Drop-in Volleyball
10:30 – 12:00 pm
SPRING Program
12:30 – 1:30 pm
Program space
2:00 – 3:00 pm
Pickleball Bookings
3:30 – 5:00 pm
Pickleball Registered Program
5:30 – 7:30 pm
* Schedules are subject to change
Remember:
Book your spot on with the My Y App